The Saem SliK Hair Color Cream Gray Hair Cover

▶ Place of origin:South Korea

▶ Internal capacity : 60g/2.11 oz.+60g/2.11 oz.

▶ Main ingredients




:Hydrolyzed Pea Protein, Hydrolyzed Corn Protein, Hydrolyzed Wheat Protein,
Hydrolyzed Soy Protein, Hydrolysed Collagen, Hydrolyzed Silk, Hydrolyzed Keratin,
Sweet almond oil, Jojoba seed oil, Camellia oil, Olive oil, Squalane, Shea butter, Ceramide NP

▶ Product Description

:Speedy gray hair cover cream that keeps the hair soft after dyeing

:Hair coloring functional cosmetics

▶ Product features

1. Perfect gray hair cover with squid ink ingredient

Quickly clothe color without feeling hair damage, and contains squid ink ingredient (sepia) to cover the gray hair naturally.

2. Smooth hair after dyeing with silk protein

It contains silk protein ingredients, keratin and highly concentrated oil, and it is coated to all hair.
After dyeing, it is treated like silk with soft and shiny hair.

3. Cream-type hair dye that easily and simple by yourself

It is a cream type hair dye that does not flow down. It is soft and easy to apply to hair.
It can be used conveniently by yourself. It contains a mixing container
and can be used several times by taking out a small amount.

4. Completion gray hair cover in 10 minutes

It is a speedy gray hair only hair dye that covers the gray hair completely even after leaving
for only 10 minutes after applying to the hair.

▶ how to use





1. Same quantity of 1st and 2nd contents are squeezed into plastic containers and mixed.

2. Apply the mixture to hair and leave for 10 to 15 minutes.

3. After lapse of time, shampoo with lukewarm water to wash your hair thoroughly.

4. Tubes with remaining contents should be kept tightly closed the lid.

※ Precautions after dyeing

Be careful of dyed in clothes, pillow covers, bedding etc. due to not to dry your hair for 2 to 3 days
from the day of dyeing, or sweat or other reasons during sleep.

※ Components





※ Precautions before using hair dye




:2 days before dyeing (before 48 hours), it is recommended to perform the skin sensitivity test (Patch Test)
every time by following the procedure below.

1. First, wash your skin around the inside of your arms or behind your ears with soapy water
and wipe gently with a cotton wool.

2. Next, take a small amount of 1st and 2nd, and mix them according to the prescribed method and prepare the test solution.

3. Apply it to the washed area in coin size, leave it for 48 hours after natural drying, and keeps the time well.

4. If there is skin irritation such as rash, flare, itching, blisters, or irritation on the applied area,
wash immediately without touching the skin. If you feel any skin abnormality before 48 hours,
immediately stop the test and wash the test solution and please do not dye.

▶ COLOR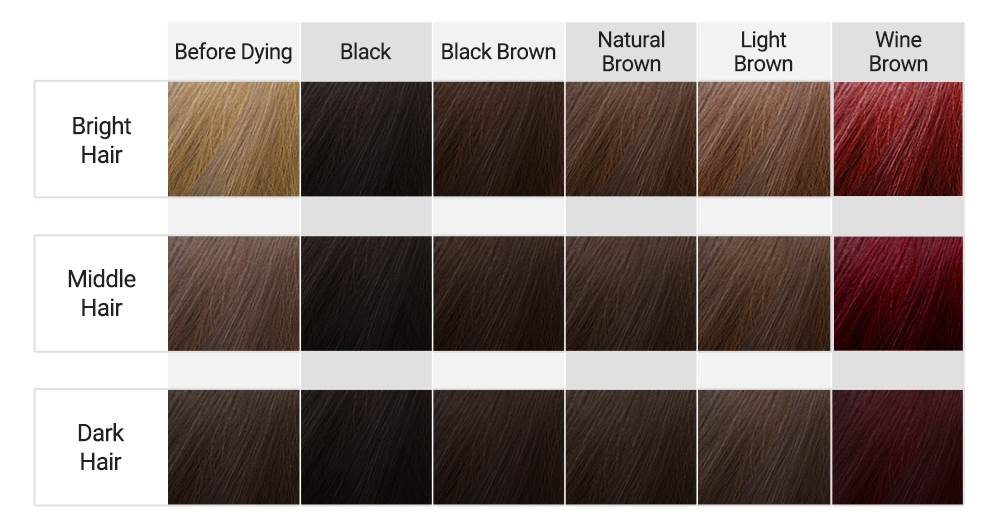 ※ Dyeing Guide

1. The dye for the gray hair cover is dyed with darker color as the application time and the holding time become longer.

2. Hair with less white hair is expressed the darker color than desired color.

3. It is difficult to re-dye dark dyed hair with a brighter color.

4. The color of hair after dyeing may be different from the chart color depending on hair condition
before hair dyeing, hair color, chroma, room temperature, dyeing time and so on.

5. Even if you have not experienced any side effects from existing dyes,
be sure to do a skin sensitivity test (patch test) before use.