THE FACE SHOP Rice Water Bright Mild Cleansing Water

▶ Place of origin:Korea

▶ Internal capacity:500ml /16.90 fl.oz.

▶ Main ingredients




:Rice germ extract(0.1%)

▶ Product Description

:It is a mild cleansing water that cleanses the daily makeup cleanly with only the necessary ingredients.

:Brightening Cleansing Water that cleanses your daily makeup cleanly with minimal ingredients and brightens skin

▶ Product features

1. Coloring-free, fragrance-free system!

Transparent cleansing water with minimal ingredients.
It is also recommended for those who carefully examine the ingredients!

2. Make a daily make-up cleansing with Michelle Water method!

Michelle Water, which pulls up the makeup and waste on the surface of the skin like a magnet,
cleanses even simple point makeup, making cleansing even easier.

3. Cleansing for bright skin!

Containing rice water, after the cleansing, the skin is brilliant and bright!

4. It is possible the cleansing without double cleansing!

It is comfortable and easy to finish cleansing.

* Rice Water?

:Rice water, which women in the court of the Joseon Dynasty often used, is cloudy water when you wash the rice,
and is rich in vitamin B, minerals. Rice water cleansing line containing washing water of rice ingredient replenishes moisture
and brightens and moisturizes skin with excellent brightening effect.

▶ how to use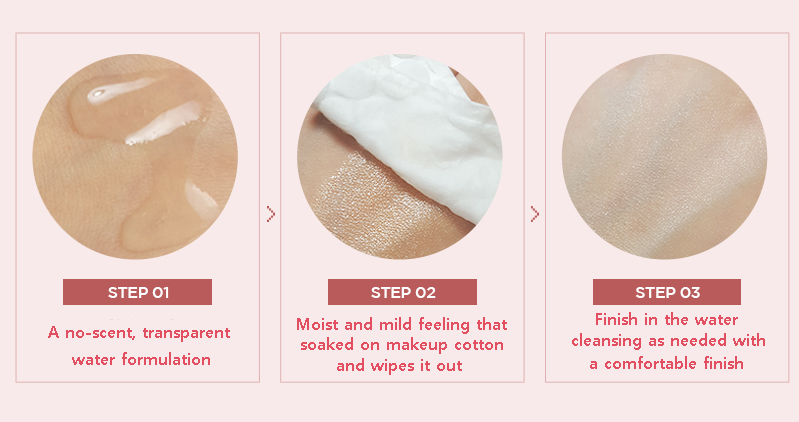 :Wet the contents with a cotton puff, then wipe it out from inside to outside of the skin.

:If you want to remove the dark point makeup, put the cotton puff soaked with the contents on the face for a while,
wipe it out, you can clean it more cleanly.

:Depending on some cases, rinse with lukewarm water.