Dr.Jart+ Cryo Rubber With Mask

▶ Place of origin : Republic of Korea

▶ Volume : 1EA (Ampoule 4g + Rubber Mask 40g)

▶ Product Description

#Cryo Rubber
: It is a mask that strengthens the skin's physical strength by reducing the skin temperature of -6 ℃.

: In addition to temporary cooling effects, it also gives blood flow improvement effect.
: It improves skin damage caused by ultraviolet radiation and cleans redness.
: It's easy to experience professional esthetic-level care at home.

▶ TYPE

# 01 Brightening Vitamin C
: Vitamin C 1,000ppm, Prebiotics Complex, Vitamin Fruit Extract 1,000ppm
: Brightening Synergy Mask Pack that brightens dull skin




# 02 Moisturizing hyaluronic acid
: Hyaluronic Acid 1,000ppm, Prebiotic Complex, Kelp Extract 1,000ppm
: Rich nutritional moisturizing synergy mask pack that replenishes dry skin with moisture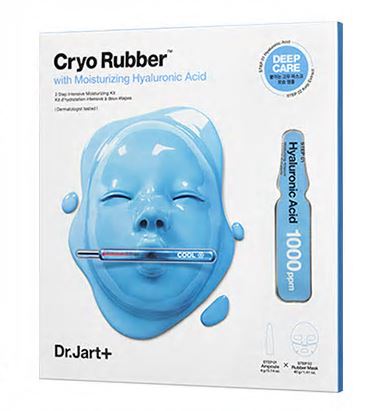 # 03 Soothing allantoin
: Allantoin 1,000ppm, Prebiotic Complex, Centella Extract 1,000ppm
: Soothing Synergy Mask Pack that soothes irritated and sensitive skin



# 04 Firming Collagen
: Collagen 1,000ppm, Prebiotic Complex, Carob Fruit Extract 1,000ppm
: A fresh, rich firming synergy mask pack that turns disordered skin into elastic skin


▶ How To Use
1) After wash your face, prepare the skin with toner.
2) Open the stick ampule and apply evenly to your skin.
3) Open the rubber mask pouch, remove the film, and attach it well on the face without any bumps.
4) Remove the rubber mask after about 30 to 40 minutes.