[City Breeze Collection] The Saem Eco Soul Powerproof Super Slim Eyeliner
▶ Place of origin:South Korea
▶ Volume : 0.14g+0.14g
▶ Product Description
: Power Proof Eyeliner that expresses sharp eyelines with 2mm slim pen that is 2 times thinner than existing pencil
▶ Product Features
1. Eyeliner that is about 2 times thinner than existing pencil!
2mm slim eyeliner makes it possible to express thin and delicate eyelines without worrying about being drawn thickly and artificially.
2. It minimizes irritation on the eye area with soft application as if you are drawing with a gel liner, and expresses sharp eyes with free drawing and clear color.
3. It is a powerful power-proof type that reduces blurs under the eyes and expresses clear eyelines.
▶ COLOR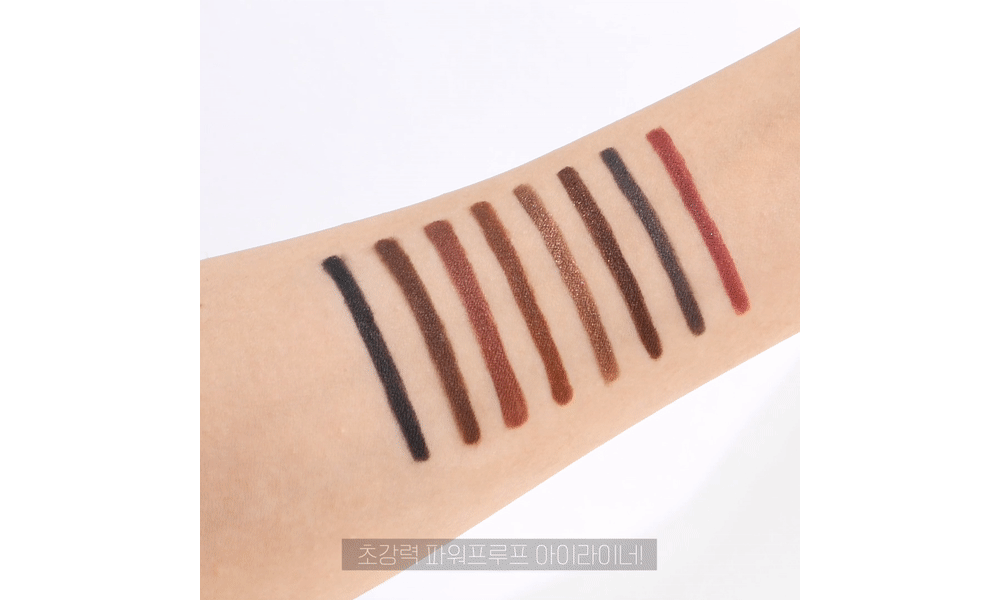 ▶ How to use
1. For thin and delicate eye lines

It is thinner than existing pencil type. Please expose only the capacity (1 ~ 2mm) to be used once.
You can draw sharp lines without applying any force. Gently draw the lines along the eyelash line.
2. For Soft & Smokey Makeup
It is a gel texture that is smoothly drawn. Less irritation on the eyes and drawn well on the waterline.
Remove gently the moisture on the waterline with a tissue paper, then fill to the waterline which looks empty white and the lower waterline
to do intense and professional makeup.
※ Precautions
1. When you use it, please expose only the capacity (1 ~ 2mm) to be used once.
Very thin, ultra-slim pen type that can be easily broken if you expose it too long or use it with force.
2. If you blink your eyes before the eyeliner is completely fixed to your eyes, it may spread or be smeared.
3. After use, turn back the pencil lead deeply and avoid contact with air as much as possible.
When ultra-slim eyeliner texture that gives a powerful power-proof effect is contacted with the air frequently, the contents may become dry or hard.
4. After use, please close the cap tightly so that it sounds 'click'. If the cap is opened, the contents may be hardened or broken.
5. If the contents are hardened by opening the cap for a long time, the contents may become stiff and irritate the eye areas.
Therefore, rub the contents several times over the tissues and use them to minimize temporary stiffness temporarily.
Although there may be a temporary first aid method as above, the most important thing is to keep the above precautions carefully
so that the contents do not get harden.